How to use VAT Calculator?
Our tool is very easy to use. Also, the user interface is very simple. So, anyone can go through the tool smoothly.
Before start the calculation process, you need to fulfill some pre-requirements. Without it, you can not go forward.
It's an online tool. So, you need a smart device that access the Internet. Then open any web browser like Chrome or Safari and open the UK VAT Calculator.
Now, follow the steps below to get started.
1. Enter Amount
When you open the tool, you can see some input fields at the top of the page. So, firstly, you need to enter the Initial amount in the first field. It can be VAT included or excluded.

2. Enter VAT Rate(%)
Second field is for VAT Rate. By default, it is set to the standard rate of 20%. You can change it if you want.

3. Add or Include VAT
Now, if you want to find amount added with VAT then click on "Add VAT" button. As a result, you will get final price with 20% VAT included.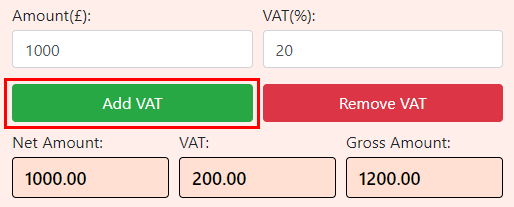 4. Remove or Exclude VAT
Similarly, you can exclude VAT percentage amount by clicking "Remove VAT" button. As a result, you will get price with 20% VAT excluded.

5. Get Final Results
Finally, it gives Net Amount, VAT Amount, and Gross Amount as an output. So, you can easily figur out all type of charges.

In short, you can use this calculator and figure out the Gross and VAT price that you need to pay to the dealers or business owners.